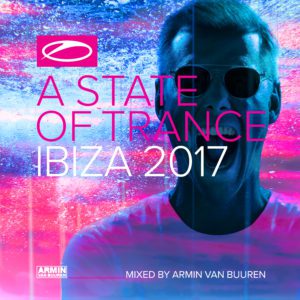 Record Links
'A State Of Trance, Ibiza 2017 (Mixed by Armin van Buuren)'
Released: August 18th, 2017 on A State Of Trance
Ibiza is a wondrous island, overflowing with a vibrant club culture and more dance music flavors than you can possibly count. It is the reason why so many Trance fans travel to the island when summer arrives, not only to see Armin van Buuren perform at Hï Ibiza, but also to dive headfirst into all of the music the White Isle has to offer. This year, A State Of Trance goes all out to bring these fans an experience they'll never forget.
With 'A State Of Trance, Ibiza 2017', those that breathe Trance music get exactly what they're looking for. Coming in two parts ('On The Beach' and 'In the Club') and with a surreal amount of exclusive records, this two-disc compilation packs forty belting productions from Trance's finest, including new tracks from Alpha 9 ('Blossom'), Armin van Buuren vs Sunnery James & Ryan Marciano ('You Are'), BT ('LSTM'), Estiva ('Little Planet' and 'Raket'), Gaia ('Crossfire'), KhoMha ('Laberinto'), Ørjan Nilsen ('Hi There Radio' and 'Swoosh'), Super8 & Tab ('Quest') and more.
For the fourth year in a row, 'A State Of Trance, Ibiza 2017' delivers a compilation that will go down in history as an essential addition to any Trance fan's collection. This is where it all goes down like never before. After all, we live for that energy.
Listen to 'A State Of Trance, Ibiza 2017 (Mixed by Armin van Buuren)
Tracklist
CD 1
1. Sultan + Shepard – Bloom (Intro Mix)
2. Joonas Hahmo x K-System – Mañana
3. Ashley Wallbridge & Andy Moor – FaceOff
4. Rodrigo Deem – Tearsdrop
5. Estiva – Little Planet
6. Alpha 9 – Blossom
7. BT – LSTM
8. Orjan Nilsen – Hi There Radio
9. Fatum – Sugar Free
10. Rodg – Miami
11. Sound Quelle & Max Meyer feat. Brandon Mignacca – Andromeda
12. Max Meyer – Monte Cara
13. Tenishia & Jonathan Mendelsohn – Sun Comes Again (Eximinds Extended Remix)
14. DARVO – Black Rainbow
15. Equador – Bones Of Man (Gareth Emery Remix)
16. Armin van Buuren feat. Josh Cumbee – Sunny Days (Armin van Buuren Extended Club Mix)
17. Denis Kenzo – Somnambulist
18. Tenishia – Alba
19. Gaia – Crossfire
CD 2
1. Estiva – Raket
2. Super8 & Tab – Quest
3. Beatsole – Before I Wake
4. Sheridan Grout – Escape
5. Rub!k – First Light
6. Orjan Nilsen – Swoosh
7. Armin van Buuren vs Sunnery James & Ryan Marciano – You Are
8. Armin van Buuren – This Is A Test (Arkham Knights Extended Remix)
9. KhoMha – Laberinto
10. Assaf feat. Nathan Nicholson – Lost Souls (Radion6 Extended Remix)
11. Eximinds & The Enturance – Magrathea
12. Alexander Popov – Awake The Flow
13. Rub!k – CFEN
14. Frainbreeze – Back To The Future
15. ReFeel – Always (Venom One Extended Remix)
16. Luke Bond – Gravity
17. Neelix – 1000 Sterne (Talla 2XLC Uplifting Extended Rework)
18. Jorn van Deynhoven – Rising High
19. Darren Styles feat. Christina Novelli – Sun Is Rising (Ben Nicky Extended Remix)
20. The Space Brothers – Shine (Jorn van Deynhoven Extended Remix)
21. Ben Gold – Twilight