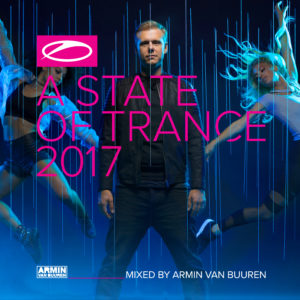 A STATE OF TRANCE 2017
Released: April 21st, 2017 on Armada Music
With 'A State Of Trance 2017', the titans of Trance have gathered ´round to show us all that we envision. It is a happy place where we can celebrate music and life, chock-full with exclusive records and emotion-driven cuts from flag-bearers such as Alexander Popov, Armin van Buuren, MaRLo, Omnia, Orjan Nilsen, Protoculture, Super8 & Tab. The compilation has captured the essence of all we hold so dear, touching us in ways that makes us shine even brighter.
If you are part of the movement, you will share its beliefs and swear by its ideals. Yet, few words are needed to explain the feeling. One phrase says it all. I Live For That Energy.
Listen or download A State Of Trance 2017 here!
TRACKLIST
CD1 (On The Beach)
1 Alpha 9 – The Night Is Ours
2 Joonas Hahmo X K-System – Yámana
3 Alexandre Bergheau – Summer's Gone (Yoel Lewis Remix)
4 Fatum – Draco
5 Rodg – Right Away
6 Yoel Lewis – Tuviana
7 Omnia & DRYM – Enigma
8 Eskai & SNR – Swipe
9 Orjan Nilsen feat. Rykka – The Hardest Part
10 Gareth Emery & Standerwick feat. HALIENE – Saving Light
11 Denis Kenzo feat. Sveta B. – Just To Hear
12 MaRLo & First State – Falling Down
13 Ashley Wallbridge – Naughts & Crosses
14 Bobina – Lazy World 2017
15 Protoculture – The Descent
16 Tom Fall – Kaamos
17 Super8 & Tab – Cosmo
18 Radion6 – World Of Tomorrow
19 Armin van Buuren – The Train
CD2 (In The Club)
1 Armin van Buuren – This Is A Test
2 Andrew Rayel feat. Emma Hewitt – My Reflection
3 Kyau & Albert – Trace
4 Eximinds & Whiteout – Lacrimosa
5 Jurgen Vries – The Theme (Radion6 Remix)
6 Alexander Popov – Eyes To Heaven
7 Davey Asprey – Fallout
8 Gaia – Saint Vitus
9 Armin van Buuren – I Live For That Energy (ASOT 800 Anthem)
10 Armin van Buuren & Garibay feat. Olaf Blackwood – I Need You (Standerwick Remix)
11 Heaven's Cry – Voices
12 Armin van Buuren presents Rising Star feat. Betsie Larkin – Again (Alex M.O.R.P.H. Remix)
13 Bobby Neon & Nick Arbor feat. Lokka Vox – What You Said (MaRLo Remix)
14 Robert Nickson – Heliopause
15 Ultimate & Moonsouls feat. Marjan – No One Else
16 Shinovi – Indian Summer
17 DRYM – Wraith
18 Scott Bond & Charlie Walker vs Trouser Enthusiasts – Sweet Release
19 Allen Watts – Arizona