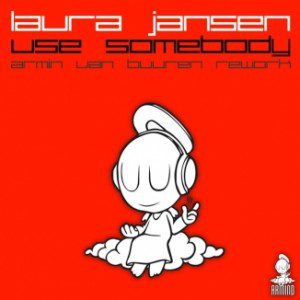 Record Links
Laura Jansen – Use Somebody (Armin van Buuren Rework)
Released: December 05th, 2011 on Armada Music
One of Armin's most beloved remixes of the past year now finally sees its release on the Armind label. Enjoy the sensitive touch of Laura Jansen's hit 'Use Somebody', combined with the dancefloor maddening beats of Armin van Buuren!
Laura's stunning cover of Kings of Leon hit 'Use Somebody' became an enormous hit in the Netherlands, more than 12 months lodged in the Top 10 of the Dutch single chart and still being one of the most played tracks on Dutch radio. Once you hear the incredibly moving, sensitive voice of the Dutch-born, Los Angeles-based singer/songwriter, you're hooked. And so was Armin van Buuren.
His remix of 'Use Somebody' was one of the highlight moments in the Armin Only – Mirage shows, during countless of his gigs and turned into a favourite for many of his fans. He presents an energetic, dance floor friendly remix with melodic synths, pounding beats and a break that can silence anyone and anything.
Record Tracklist
Use Somebody (Armin van Buuren Rework)

-:--

/

-:--