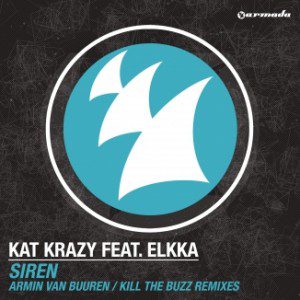 Record Links
Kat Krazy feat. Elkka – Siren (Armin Van Buuren / Kill The Buzz Remixes)
Released: November 18th, 2013 on Armada Music
The 'Siren' is wailing, not only hitting into the Sirius BPM playlist, but also rocking the Top 10 iTunes Dance chart in countries such as the US and Canada.
The Kat Krazy craze has started, and is now continuing to spread with two new remixes – by no one less than Armin van Buuren and Kill The Buzz!
Dutch sensation Kill The Buzz saw his remix of 'Siren' stand out in W&W's Essential Mix on BBC Radio 1 and in Hardwell On Air, adding a tad of madness to this delicate prog-houser.
Armin van Buuren has his very own radio show with about 20 million listeners to promote his version – we're pretty sure it'll be given a very warm welcome.
Record Tracklist
Siren (Armin van Buuren Radio Edit)

-:--

/

-:--

Siren (Kill The Buzz Radio Edit)

-:--

/

-:--

Siren (Armin van Buuren Remix)

-:--

/

-:--

Siren (Kill The Buzz Remix)

-:--

/

-:--