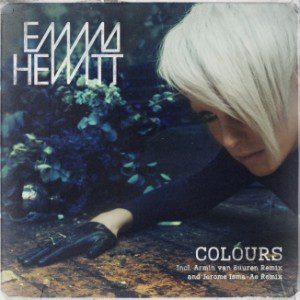 Record Links
Emma Hewitt – Colours (Armin van Buuren Remix)
Released: January 16th, 2012 on Armind
Lighting souls with her voice since her first collaboration, Australian singer Emma Hewitt has grown from featured vocalist to fully-fledged songstress. 'Colours' is the first, breathtaking single taken from her upcoming artist album, and a promising one at that…
Having worked with EDM's producer elite, from Cosmic Gate to Dash Berlin, Chris Lake and Gareth Emery, Emma has been one of the fastest rising names in dance land. Her characteristic and versatilevoice, ever warm and deep, has earned a place in the hearts of many.
And it will in many, many more. With her debut album set for 2012 release, it's only a matter of time before the world discovers the songwriter, story-teller and voice that are yet to be fully revealed in Emma Hewitt. 'Colours' is the first of her rich palette of songs to come to life.
An enchanting, poignant track that sends shivers down your spine, from the very first listen.
With her roots firmly grounded in dance music, it should come as no surprise that 'Colours' is accompanied by a set of high profile remixes.
Armin van Buuren, a long-time admirer of Emma's voice, has been hammering his remix of 'Colours' for months, making sure it's an absolute floor killer. German producer Jerome Isma-Ae, one of the most-requested remixers around the globe, has sprinkled his energetic, prog-housy sound on top of 'Colours' as well.
Record Tracklist
Colours (Album Version)

-:--

/

-:--

Colours (Armin van Buuren Remix)

-:--

/

-:--

Colours (Armin van Buuren Radio Edit)

-:--

/

-:--

Colours (Armin van Buuren Remix Dub)

-:--

/

-:--

Colours (Jerome Isma-Ae Remix)

-:--

/

-:--

Colours (Jerome Isma-Ae Dub Mix)

-:--

/

-:--

Colours (Strings & Vocals Mix)

-:--

/

-:--