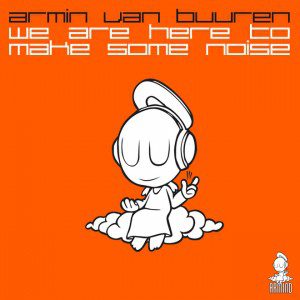 Record Links
Armin van Buuren – We Are Here To Make Some Noise
Released: May 08th, 2012 on Armind
Now that the Dutch celebration of Queensday has kicked off and the European Football Championship awaits us in June, Armin got inspired. The orange craze has taken over and so.. Armin van Buuren makes you feel it, with the energetic 'We Are Here To Make Some Noise'!
One of the star-players of the 'Dutch Eleven' once said he gets all pumped up hearing the music coming from the stadium as he's getting ready to play. This time, it's 'We Are Here To Make Some Noise' that'll fill the global stadiums and arenas, created by a man to whom the word 'champion' has a familiar ring to it. Armin van Buuren, hot off his sold-out A State of Trance 550 tour, has produced another killer tune for the highlight moments.
'We Are Here To Make Some Noise' builds up strong, rhythmic and catchy. With its rough and rocky edge, electro touch and contagious melody, it will surely be making some noise in the next following months.