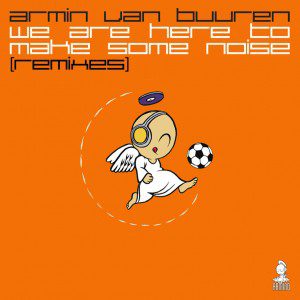 Record Links
Armin van Buuren – We Are Here To Make Some Noise (Remixes)
Released: June 07th, 2012 on Armind
Right in time for the European Football Championship, Armin van Buuren presents the official remix pack of his latest dance floor smacker. Discover the 'We Are Here To Make Some Noise' remix pack, with the sounds of Antillas & Dankann, Judge Jules, Maison & Dragen and The Scumfrog!
The orange craze is taking over. The sound of cheering crowds, chants and excitement fills the air. Armin van Buuren brought an ode to the unifying character of football, with the playful and energetic 'We Are Here To Make Some Noise'. A new taste to the Dutchman's diverse sound. To keep the orange flame burning and start a fire down the clubs, Armin now presents the highly anticipated remix-pack.
Italian producers Antillas & Dankann pour down some electro goodies, creating a melodic and high energy big-room remix for 'We Are Here To Make Some Noise'. UK legend Judge Jules surprises us all, by building an entirely new track around it, riding a solid uplifting trance sound. Upcoming Finnish duo Maison & Dragen rock the house with a purely energetic, block-rocking remix and give it a raw, electro vibe. Last but not least, there's the sound of The Scumfrog. Remixing the stars for more than 15 years already, he brings a deep, feel-good of 'We Are Here To Make Some Noise' to the table, mixing prog, techno and house.