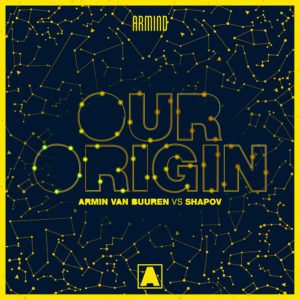 Armin van Buuren vs Shapov – Our Origin
Released: July 23rd, 2018 on Armada Music
Not a day goes by when we don't hear Trance fans reminiscing about the days gone by, about the sound they fell head over heels in love with. Though progress and development are vital parts of any music genre as well as the scene as a whole, and sonic evolution therefore is meant to be, Armin van Buuren and Shapov have set out to please those still longing for the "good ol' days". Today, they go back to where it all began with their second phenomenal link-up: 'Our Origin'.
Listen to Armin van Buuren vs Shapov – Our Origin
The opening track of the 'A State Of Trance, Ibiza 2018' mix album (set for release on August 10th and available for pre-order now) and one of the most impactful tracks of Armin van Buuren's mainstage set at Tomorrowland 2018, 'Our Origin' sees Armin van Buuren and Shapov deliver the perfect follow-up to previous collaboration 'The Last Dancer'. Rooted in the sound that helped the genre's popularity skyrocket, 'Our Origin' is exactly what fans bargained for: an exceptional, melodically irresistible masterpiece that takes listeners on a marvelous journey, just like in the old days.
Armin van Buuren: "'Our Origin' was made with this year's Tomorrowland theme, 'Planaxis', in mind. We wanted to create something fundamental not only to the current generation of dance music, but also to the sound that thrived so many years back. I'd like to think we're really hit the mark with our new record, and I hope everyone will love the song as much as we loved creating it."
Shapov: "I'm really happy to have done two collaborations with Armin, especially as I feel we've come up with a great combination of styles, like Progressive meets Trance. I feel both our styles are very similar in the sense that they both draw inspiration from the early days of Trance and that's where the name 'Our Origin' comes from. After working on 'The Last Dancer' together and joining him on stage at Ultra Music Festival Miami this year, it feels amazing to have been able to work with him again. I really think we've managed to create magic once more with this new single."