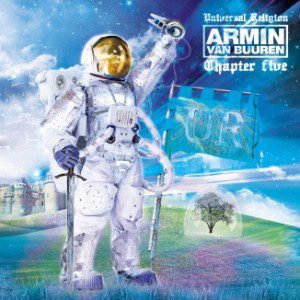 Record Links
Armin Van Buuren – Universal Religion Chapter 5
Released: September 30th, 2011 on Armada Music
Every summer season, fans of Armin van Buuren hold their breath for two magical words to drop: Universal Religion. The compilation series, going strong since 2004, is a favourite amongst those into quality electronic dance music. This year, the fifth Chapter of the beloved series has landed, recorded live during Armin's sets in club Space on party-island Ibiza.
The Dutchman breathes music, and has been at it for more than 15 years. A lot has happened since the release of Universal Religion Chapter 4 in the summer of 2009. His fourth artist album 'Mirage' saw the light of day, along with the accompanying 'Armin Only – Mirage' world tour. The 10 year anniversary and 500th episode of his A State of Trance radio show was celebrated with 5 events across 5 different continents, divided over 5 weeks. All events were broadcast live, uniting millions of listeners, sharing their passion for music. Another exciting new happening in his musical career, is his residency in the world-famous club Space on Ibiza.
Armin van Buuren honours tradition and gives it a new spin at the same time. Universal Religion Chapter 5 presents two special live recordings from his gigs at Space. Let your senses be taken by exclusive tunes and remixes, feel the vibrant energy of the crowd and enjoy Armin's unrivalled mixing skills, as he introduces you to a new, musical Chapter. Not only does Universal Religion Chapter 5 indulge you with 2 brand new Armin van Buuren remixes, a new Gaia production and Armin's 'Brute' collab with Ferry Corsten, it also takes you in with the beats of BT, Shogun, Ashley Wallbridge, Paul Oakenfold, Alexander Popov, Daniel Kandi, Re:Locate vs Robert Nickson, Andy Moor, John O'Callaghan and many more.
The cover of this new Universal Religion Chapter was created by Dutch artist Joseph Klibansky. His art is known and shown in galleries all around the globe. Klibansky creates large-scale, idealistic digital paintings that are built up through hundreds of layers of photography enriched with acrylic paint. Armin asked Klibansky to create a special version of one of his artworks, for 'Universal Religion Chapter 5'. For this collaboration, Klibansky created a dreamy image of infinite, hidden details, blending past and future, challenging your perception. This piece of art will also be shown in his 'New Urban Wonderland' exhibition. It complements the many effects that music can have on its listeners, and that's exactly what appeals Armin so much. Also available on Spotify and Beatport.
Record Tracklist
Ashley Wallbridge – Vision (Original Edit)

-:--

/

-:--

BT & Adam K – Tomahawk (Original Mix Edit)

-:--

/

-:--

Gofman & Tsukerman – Darko (Original Mix Edit)

-:--

/

-:--

Shogun – Space Odyssey (Original Mix Edit)

-:--

/

-:--

Hannah – Falling Away (Armin van Buuren Remix Edit)

-:--

/

-:--

Andy Moor feat. Sue McLaren – Fight The Fire (Stoneface & Terminal Remix Edit)

-:--

/

-:--

Protoculture – Liquid Logic (Original Mix Edit)

-:--

/

-:--

Dennis Sheperd & Cold Blue feat. Ana Criado – Fallen Angel (Dennis Sheperd Club Mix Edit)

-:--

/

-:--

Markus Schulz presents Dakota – Terrace 5 a.m. [Markus Schulz presents Dakota] (Album Mix)

-:--

/

-:--

Gaia – Stellar (Original Mix Edit)

-:--

/

-:--

Susana – Home (Daniel Kandi Retrofit Remix Edit)

-:--

/

-:--

Mike Koglin vs Genix – Helion (Original Mix Edit)

-:--

/

-:--

Jorn van Deynhoven – Spotlight (Original Mix Edit)

-:--

/

-:--

Ferry Corsten vs. Armin van Buuren – Brute (Original Mix Edit)

-:--

/

-:--

Armin van Buuren – Universal Religion Chapter 5 (Live Continuous DJ Mix, Pt. 1)

-:--

/

-:--

Kid Alien – The Atmosphere (Klauss Goulart's & Mark Sixma Deep Universe Remix Edit)

-:--

/

-:--

Space RockerZ & Tania Zygar – Puzzle Piece (Daniel Heatcliff's Farewell Remix Edit)

-:--

/

-:--

Emma Hewitt – Colours (Armin van Buuren Remix Edit)

-:--

/

-:--

Gareth Emery & Ashley Wallbridge – Mansion (Original Mix Edit)

-:--

/

-:--

DNS Project – Exclusive (Big Room Edit)

-:--

/

-:--

John O'Callaghan & Giuseppe Ottaviani – Ride The Wave (Giuseppe Ottaviani Remix Edit)

-:--

/

-:--

James Dymond – Gundam (Original Mix Edit)

-:--

/

-:--

Daniel Kandi – Saggitarius (Original Mix Edit)

-:--

/

-:--

Paul Oakenfold – Full Moon Party (Edit)

-:--

/

-:--

Re:Locate vs Robert Nickson – Resource [Re:Locate vs Robert Nickson] (Original Mix Edit)

-:--

/

-:--

Orjan Nilsen – Viking (Original Mix Edit)

-:--

/

-:--

Armin van Buuren – Universal Religion Chapter 5 (Live Continuous DJ Mix, Pt. 2)

-:--

/

-:--