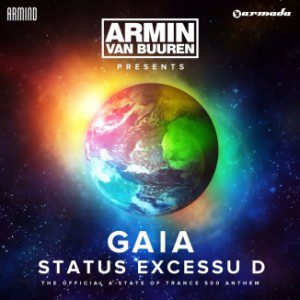 Record Links
Armin Van Buuren Presents Gaia – Status Excessu D (ASOT 500 Theme)
Released: March 16th, 2011 on A State Of Trance
Uniting the world with music has always been a dream of Dutchman Armin van Buuren. A dream he still treasures, gig after gig, show after show and record after record. No longer does that dream belong to the future. Future is now and Armin van Buuren enjoys every minute of it.
Never did he expect his weekly radioshow to grow so big and popular. 15 million listeners tune in every week, to enjoy 2 hours of nothing but the best in trance and progressive. A highlight and musical happening that's locked in the hearts of millions of dance lovers. In March 2011, the A State of Trance radioshow reaches its 500th episode, going strong for more than 10 years. Celebrated with 5 events across 5 different continents in 5 weeks, the ASOT 500 show is turning into one of the greatest celebrations trance has ever known.
With a grand celebration, comes a great anthem. And who better than Armin himself, can provide you one? He crawled into his Gaia skin to produce the very special follow-up to '4 Elements', 'Tuvan' and 'Aisha': 'Status Excessu D'.
'Status Excessu D' has everything a brilliant theme song needs: energy, strong beats, a warm melody, a real classic feel and a break that sends shivers down your spine no matter how many times you've listened to it. This is 'Status Excessu D', the official A State of Trance 500 theme and sound of a future that'll surely hold many more beloved A State of Trance episodes.
Record Tracklist
Status Excessu D [The Official A State Of Trance 500 Anthem] (Original Mix)

-:--

/

-:--

Status Excessu D [The Official A State Of Trance 500 Anthem] (Radio Edit)

-:--

/

-:--