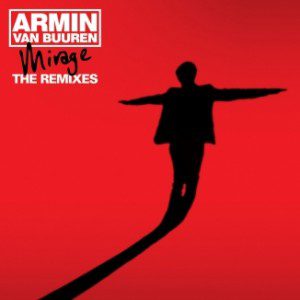 Record Links
Armin Van Buuren – Mirage (The Remixes)
Released: June 17th, 2011 on Armada Music
The biggest project Armin has ever worked on, has now been translated. His fourth artist album, 'Mirage', contains two years of hard work and creativity, coming together in 16 tracks. Collaborations with Christian Burns, Sophie Ellis-Bextor, Ferry Corsten, Adam Young, BT, Guy Chambers and many other gifted artists, as well as several stunning solo-instrumentals, was the musical journey that Armin completed.
That journey now leads to a new destination: 'Mirage – The Remixes'. The album that received 2 golden records and was praised for its musical fusions and surprises, was remixed by some of today's biggest producer talents. All with their own strengths, point of view, style and source of inspiration, they've delivered a new interpretation of one of its 16 jewels. 'Mirage' has been held in front of the mirror, and now sees its audio reflections revealing brand new sounds on 'Mirage – The Remixes'.
Remixes by Avicii, BT, Dash Berlin, Jerome Isma-Ae, 16 Bit Lolita's, Tocadisco, Kyau & Albert, W&W, Ummet Ozcan, Ralphie B, Arctic Moon and many other talented producers have put 'Mirage' into a bright, new light. 'Mirage – The Remixes' is there for everyone who wants to explore the other side and character of the album. Whether you love uplifting trance, steamy hot house or deep-rolling progressive, 'Mirage – The Remixes' indulges you with a new façade to every track you already loved.
Record Tracklist
Armin van Buuren feat. Laura V – Drowning (Avicii Remix)

-:--

/

-:--

Armin van Buuren feat. Nadia Ali – Feels So Good (Tristan Garner Remix)

-:--

/

-:--

Armin van Buuren feat. Adam Young – Youtopia (Blake Jarrell Remix)

-:--

/

-:--

Armin van Buuren vs Ferry Corsten – Minack (Orjan Nilsen SuperChunk Remix)

-:--

/

-:--

Armin van Buuren vs Sophie Ellis-Bextor – Not Giving Up On Love (Dash Berlin 4AM Mix)

-:--

/

-:--

Armin van Buuren feat. Winter Kills – Take A Moment (Shogun Remix)

-:--

/

-:--

Armin van Buuren – Orbion (Max Graham vs Protoculture Remix)

-:--

/

-:--

Armin van Buuren feat. BT – These Silent Hearts (Ralphie B Remix)

-:--

/

-:--

Armin van Buuren – Full Focus (Ummet Ozcan Remix)

-:--

/

-:--

Armin van Buuren feat. Sophie – Virtual Friend (BT Remix)

-:--

/

-:--

Armin van Buuren feat. Christian Burns – This Light Between Us (Orchestral Version)

-:--

/

-:--

Armin van Buuren feat. Sophie – Virtual Friend (16 Bit Lolitas Remix)

-:--

/

-:--

Armin van Buuren feat. Ana Criado – Down To Love (Kyau & Albert Remix)

-:--

/

-:--

Armin van Buuren – Mirage (Alexander Popov Remix)

-:--

/

-:--

Armin van Buuren feat. Christian Burns – This Light Between Us (Armin van Buuren's Great Strings Mix)

-:--

/

-:--

Armin van Buuren – I Don't Own You (Andy Moor Remix)

-:--

/

-:--

Armin van Buuren feat. Winter Kills – Take A Moment (Alex M.O.R.P.H. Remix)

-:--

/

-:--

Armin van Buuren feat. Cathy Burton – I Surrender (Sebastian Brandt Remix)

-:--

/

-:--

Armin van Buuren feat. VanVelzen – Take Me Where I Wanna Go (Giuseppe Ottaviani Remix)

-:--

/

-:--

Armin van Buuren – Coming Home (Arctic Moon Remix)

-:--

/

-:--

Armin van Buuren feat. Christian Burns & Bagga Bownz – Neon Hero (Original Mix)

-:--

/

-:--

Armin van Buuren – Orbion [Bonus Track] (Eco Remix)

-:--

/

-:--

Armin van Buuren feat. Adam Young – Youtopia [Bonus Track] (Tocadisco Remix)

-:--

/

-:--

Armin van Buuren feat. Adam Young – Youtopia [Bonus Track] (ReLocate Remix)

-:--

/

-:--

Armin van Buuren feat. Christian Burns – This Light Between Us [Bonus Track] (Dabruck & Klein Remix)

-:--

/

-:--

Armin van Buuren feat. VanVelzen – Take Me Where I Wanna Go [Bonus Track] (Chris Schweizer Mix)

-:--

/

-:--

Armin van Buuren – I Don't Own You [Bonus Track] (The Thrillseekers Remix)

-:--

/

-:--

Armin van Buuren feat. BT – These Silent Hearts [Bonus Track] (W&W Remix)

-:--

/

-:--

Armin van Buuren feat. Jessie Morgan – Love Too Hard [Bonus Track] (Roger Shah Pumpin' Island Remix)

-:--

/

-:--

Armin van Buuren vs Ferry Corsten – Minack [Bonus Track] (Mark Sixma Remix)

-:--

/

-:--