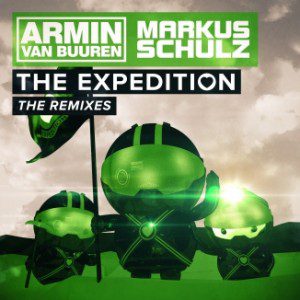 Record Links
Armin van Buuren & Markus Schulz – The Expedition (A State Of Trance 600 Anthem) (The Remixes)
Released: March 04th, 2013 on Armada Music
Commemorating a milestone in trance music, the official ASOT600 anthem of Armin van Buuren and Markus Schulz has definite impact. Now that the remix pack is about to land, including new interpretations by Andrew Rayel, Orjan Nilsen, KhoMha and Indecent Noise, 'The Expedition' sets forth its mission to turn the globe into a dance floor!
These are memorable times for fans of the A State of Trance radio show. In fact, these times are exciting for each fan of the trance genre. Celebrating the 600th episode of Armin van Buuren's beloved radio show, he gears up a world tour bigger than ever. And no world tour is complete without its own anthem. That's why 'The Expedition' was brought to life. After its incredible original has been unleashed, it's time for some rising talents to give it their own interpretation.
Four remixes by names on the rise. Talents, praised by Armin and Markus and ever support on the ASOT show. These are the names of today's generation in EDM. And they all know how to turn 'The Expedition' into their own, musical adventure. From the future classic sound of Moldovian producer Andrew Rayel to the blazing belter that hails from Orjan Nilsen's studio in Norway. From the deep, proggy fires of KhoMha's remix to the tech trance madness of Indecent Noise. Pick your favourite and discover them all!
Record Tracklist
The Expedition (A State Of Trance 600 Anthem) (Orjan Nilsen Remix)

-:--

/

-:--

The Expedition (A State Of Trance 600 Anthem) (Andrew Rayel Remix)

-:--

/

-:--

The Expedition (A State Of Trance 600 Anthem) (KhoMha Remix)

-:--

/

-:--

The Expedition (A State Of Trance 600 Anthem) (Indecent Noise Remix)

-:--

/

-:--