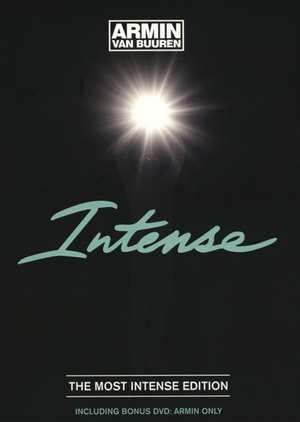 Record Links
Armin van Buuren – Intense – The Most Intense Edition [CD/DVD Box Only]
Released: December 05th, 2014 on Armada Music
The third and final installment of Armin van Buuren's 'Intense' is here, and 'Intense (The Most Intense Edition)' is the most massive version to date. Spanning an impressive 4 CDs and 1 DVD, this box set includes never-before-seen material bringing the 'Intense' experience to its ultimate climax.
Released to coincide with the final Armin Only: Intense tour dates in the Dutch Ziggo Dome, this set is a celebration of an outstanding year-long journey. The DVD features the original Dutch TV broadcast of the very first Armin Only show in December of 2013. Each 'Road Movie' is included as well, giving a detailed look behind the scenes of the globe-spanning tour.
Not only that, but CDs 3 and 4 are filled with live recordings from the final 5 shows of the tour, complete with crowd noise and all the exclusive medleys and original performances of the live show. This album is the ultimate way to experience and recreate the Armin Only effect exactly as it was always intended.
After one of the most memorable and unbelievable years in Armin's life, this is what it feels like to take a step back and soak it all in.