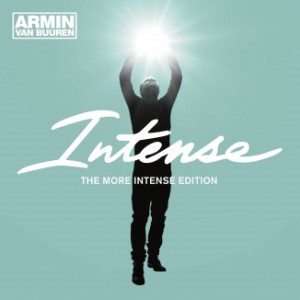 Record Links
Armin van Buuren – Intense (The More Intense Edition)
Released: November 15th, 2013 on Armada Music Bundles
An album that'll live on in the legacy of one of electronic dance music's biggest icons, Armin van Buuren. The fifth and most diverse artist album, loved for many reasons.
A musical piece that surprises and inspires, and will continue to do so through its official remix and deluxe album: 'The More Intense edition'.
Completing the story of 'Intense' with two brand new tracks, no less than 16 remixes by the likes of Protoculture, Dannic, Toby Hedges, Orjan Nilsen, Aly & Fila and more!
Here it is, intensifying the journey that 'Intense' has started.
Record Tracklist
Armin van Buuren feat. Miri Ben-Ari – Intense

-:--

/

-:--

Armin van Buuren feat. Trevor Guthrie – This Is What It Feels Like

-:--

/

-:--

Armin van Buuren feat. Cindy Alma – Beautiful Life

-:--

/

-:--

Armin van Buuren feat. Fiora – Waiting For The Night

-:--

/

-:--

Armin van Buuren – Pulsar

-:--

/

-:--

Armin van Buuren feat. Laura Jansen – Sound Of The Drums

-:--

/

-:--

Armin van Buuren feat. Lauren Evans – Alone

-:--

/

-:--

Armin van Buuren vs NERVO feat. Laura V. – Turn This Love Around

-:--

/

-:--

Armin van Buuren feat. Aruna – Won't Let You Go

-:--

/

-:--

Armin van Buuren – In 10 Years From Now

-:--

/

-:--

Armin van Buuren – Last Stop Before Heaven

-:--

/

-:--

Armin van Buuren feat. Emma Hewitt – Forever Is Ours

-:--

/

-:--

Armin van Buuren feat. Richard Bedford – Love Never Came

-:--

/

-:--

Armin van Buuren – Who's Afraid Of 138?!

-:--

/

-:--

Armin van Buuren feat. Bagga Bownz – Reprise

-:--

/

-:--

Armin van Buuren feat. Trevor Guthrie – This Is What It Feels Like (John Ewbank Classical Remix)

-:--

/

-:--

Armin van Buuren – Save My Night (Original Mix)

-:--

/

-:--

Armin van Buuren feat. Cindy Alma – Don't Want To Fight Love Away (Original Mix)

-:--

/

-:--

Armin van Buuren feat. Miri Ben-Ari – Intense (Andrew Rayel Radio Edit)

-:--

/

-:--

Armin van Buuren feat. Trevor Guthrie – This Is What It Feels Like (W&W Radio Edit)

-:--

/

-:--

Armin van Buuren feat. Cindy Alma – Beautiful Life (Kat Krazy Radio Edit)

-:--

/

-:--

Armin van Buuren – Pulsar (Ummet Ozcan Radio Edit)

-:--

/

-:--

Armin van Buuren feat. Laura Jansen – Sound Of The Drums (Michael Brun Radio Edit)

-:--

/

-:--

Armin van Buuren feat. Lauren Evans – Alone (Orjan Nilsen Radio Edit)

-:--

/

-:--

Armin van Buuren vs NERVO feat. Laura V. – Turn This Love Around (Toby Hedges Radio Edit)

-:--

/

-:--

Armin van Buuren feat. Aruna – Won't Let You Go (Ian Standerwick Radio Edit)

-:--

/

-:--

Armin van Buuren feat. Emma Hewitt – Forever Is Ours (Solarstone Pure Radio Edit)

-:--

/

-:--

Armin van Buuren feat. Richard Bedford – Love Never Came (W&W vs Armin van Buuren Remix)

-:--

/

-:--

Armin van Buuren feat. Miri Ben-Ari – Intense (Dannic Radio Edit)

-:--

/

-:--

Armin van Buuren – Pulsar (Cosmic Gate Radio Edit)

-:--

/

-:--

Armin van Buuren feat. Aruna – Won't Let You Go (Tritonal Radio Edit)

-:--

/

-:--

Armin van Buuren vs NERVO feat. Laura V. – Turn This Love Around (Starkillers Radio Edit)

-:--

/

-:--

Armin van Buuren feat. Laura Jansen – Sound Of The Drums (Aly & Fila Radio Edit)

-:--

/

-:--

Armin van Buuren feat. Richard Bedford – Love Never Came (Jorn van Deynhoven Radio Edit)

-:--

/

-:--

Armin van Buuren – Last Stop Before Heaven (Maarten de Jong Radio Edit)

-:--

/

-:--

Armin van Buuren feat. Richard Bedford – Love Never Came (The Blizzard Radio Edi)

-:--

/

-:--

Armin van Buuren feat. Trevor Guthrie – This Is What It Feels Like [MUSIC VIDEO]

-:--

/

-:--

Armin van Buuren feat. Cindy Alma – Beautiful Life [MUSIC VIDEO]

-:--

/

-:--

Armin van Buuren feat. Fiora – Waiting For The Night [MUSIC VIDEO]

-:--

/

-:--