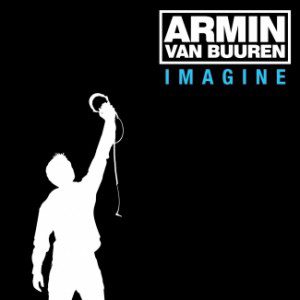 Record Links
Armin Van Buuren – Imagine
Released: April 19th, 2008 on Armada Music
Imagine is the hotly anticipated third artist album from Armin van Buuren, the world's number 1 DJ, as voted by the public in DJ Mag's prestigious poll. Testament to Armin's ongoing transition from producer to fully-fledged artist, it's the perfect amalgamation of beats and electronica with lush chords and songwriting.
The main inspiration for a lot of the tracks has come from the theme imagine. Says Armin, "Imagine for me stands for the way I visualise music when I listen to it, and a lot of people have that same connection with music, especially trance which is so emotionally driven. Music is very personal for everybody, and what I've realised from my travels is that music transcends everything – the same music can touch people all over the world. You can't judge someone else on their taste in music, and you can't turn people onto music that isn't for them – it's just something that resonates with each individual. One of the beautiful things about being human is that we can imagine, create, and escape back into our imagination when we want to recall a feeling or invent something new…"
While trance's universal appeal and Armin's dedication to the genre have contributed to his huge global success (including a radio show that broadcasts on a massive 40 FM stations as well as satellite and internet radio, with over 6 million listeners a week), Armin's albums are more than a series of identikit trance tracks based on an 8-bar loop. Imagine is the product of two years' work, with tracks recorded across 8 locations – everywhere from Washington to Holland, and LA to Ireland – and featuring a number of vocals, from the sublime tones of American Jennifer Rene to the rock-friendly sound of Liverpudlian Chris Jones on Going Wrong (currently making a serious impact on the airwaves).
"Some of the tracks are more melodic and chilled than past productions," says Armin, "but the great thing about trance is the number of guises that it comes in. The intro track, Imagine, is an instrumental that takes in a number of different styles – orchestral elements, guitasr, kickdrums – trance has been criticised for being stuck in one formula but if you look around that just isn't the case. Trance DJs don't just play one style of music and are often influenced by many different genres as well. For me, it can be everything from the lush chords and guitars of Pink Floyd to the song structures of the Beatles or the vocal sounds of Amy Winehouse!"
As well as vocals from the likes of Cathy Burton, Audrey Gallagher (a former Agnelli and Nelson collaborator and vocalist on the gorgeous John O Callaghan track Big Sky), Vera Ostrova of The Bluestorm, Sharon den Adel of rock band Within Temptation and more, the album features Armin's brother on guitar on four of the tracks as well.
Prior to the album's release, Armin has been undertaking his usual gruelling gig schedule, including an Armin Only event based around the Imagine theme – another sell-out event. Expect more of these inimitable shows – Armin Only (www.arminonly.com) will kick off a series of shows on April 19 and will be live on Dutch TV, before taking in Romania, Australia, Toronto, Poland, the Czech Republic and more. All the vocalists from the album will fly in for the spectacular 9-hour events to perform during the show, bringing Imagine to life against a backdrop of visual and aural sensory-stimulating experiences.
"It's amazing how much we use the word 'Imagine' in our daily language" says Armin. "I hope this album resonates in the same way, and everybody can find a piece of music or a lyric that means something to them. A lot of the tracks are about love – one of the ultimate triggers of emotion on all ends of the spectrum. I've loved putting them together, from sitting down to write them to arranging and recording them. I tell all of the producers on Armada to do something they love, not just to produce what people expect, and this is what I've done with Imagine."
Record Tracklist
Imagine

-:--

/

-:--

Going Wrong

-:--

/

-:--

Unforgiveable

-:--

/

-:--

Face To Face

-:--

/

-:--

Hold On To Me

-:--

/

-:--

In And Out Of Love

-:--

/

-:--

Never Say Never

-:--

/

-:--

Rain

-:--

/

-:--

What If

-:--

/

-:--

Fine Without You

-:--

/

-:--

Intricacy (Original Mix)

-:--

/

-:--