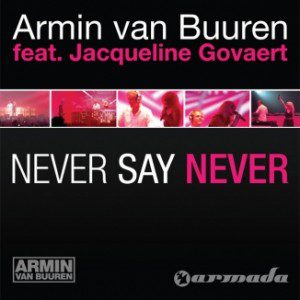 Record Links
Armin Van Buuren feat. Jacqueline Govaert – Never Say Never
Released: June 29th, 2009 on Armada Music
With so many tracks to choose from, it's a tough one to decide which track will be the next single of Armin van Buuren's third artist album 'Imagine'. We've already had the hits 'Going Wrong', in collaboration with DJ Shah & Chris Jones, 'In & Out of Love' with singer Sharon den Adel, and 'Unforgivable' with Jaren. But Armin van Buuren's got another winner. 'Never Say Never' is the fourth single of his artist album 'Imagine'.
You might know Jacqueline from her work with Dutch rock band Krezip, one of Holland's most popular and awarded bands. Armin already made a rework of their biggest hit 'Stay' in 2003, which now resulted in a team up with Jacqueline, lead singer of the band. Her characteristic voice perfectly matches the flirtatious sensitivity of the melody and profound beat underneath it all. An intense track that will surely set things alight and leave a memorable impression.
The live performance of Jacqueline already proved its work by taking the 20.000 'Armin Only: Imagine' visitors to a higher place, and lifting the roof off of the Jaarbeurs venue in Utrecht.
On the remix duties, we've got young talents Myon & Shane 54, who deliver a very distinguished remix. These two guys recently teamed up and make one big track after another. The Myon & Shane 54 remix of 'Never Say Never' is a deep, warm remix with a break that leaves you breathless. Leaving you breathless might also be one of the side-effects of listening to the Omnia or Alex Gaudino remix!
Record Tracklist
Never Say Never (Omnia Remix)

-:--

/

-:--

Never Say Never (Myon & Shane 54 Remix)

-:--

/

-:--

Never Say Never (Radio Edit)

-:--

/

-:--

Never Say Never (Extended Mix)

-:--

/

-:--

Never Say Never (Alex Gaudino Remix)

-:--

/

-:--