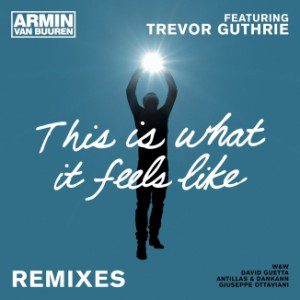 Record Links
Armin Van Buuren Feat. Trevor Guthrie – This Is What It Feels Like (Remixes)
Released: April 29th, 2013 on Armada Music
The world has heard, seen and felt it. 'This Is What It Feels Like', the first single of Armin van Buuren's 'Intense' album, has begun to move us all. The feel-good tune, featuring Trevor Guthrie, now spreads through the remixes of David Guetta, Antillas & Dankann and Giuseppe Ottaviani!
Getting the 'Essential New Tune' on Pete Tong's BBC Radio 1 show and performed live in front of ten-thousands of fans during Armin's set at the Ultra Music Festival in Miami, 'This Is What It Feels Like' is the new sensation. A musical fusion that works, moves and brings a smile. For those craving a more club oriented version, it's now time for the remixes to rush in.
David Guetta, the undisputed king of fusions and former number one DJ in the world, returns a favor. After Armin's remix of 'Without You', the French producer/DJ brings his sounds to 'TIWIFL'. A smashing, club-housy tune is the rocking result.
Dutch duo W&W, the rising stars of EDM's new generation, supersized 'This Is What It Feels Like' to club and arena proportions, peak-time madness guaranteed.
Fusing progressive, house and a twist of trance, Italian producers Antillas & Dankann show their skills with a powerful, solid remix that builds and builds, all the way to its playful break.
Last but not least, Guiseppe Ottaviani hears the trance fans by kicking in with a 138-friendly remix of outstanding uplifting quality. 'This Is What It Feels Like' really does work in all fields!
Record Tracklist
This Is What It Feels Like (Extended Mix)

-:--

/

-:--

This Is What It Feels Like (W&W Remix)

-:--

/

-:--

This Is What It Feels Like (David Guetta Remix)

-:--

/

-:--

This Is What It Feels Like (Antillas & Dankann Remix)

-:--

/

-:--

This Is What It Feels Like (Antillas & Dankann Radio Edit)

-:--

/

-:--

This Is What It Feels Like (Giuseppe Ottaviani Remix)

-:--

/

-:--

This Is What It Feels Like (Giuseppe Ottaviani Radio Edit)

-:--

/

-:--