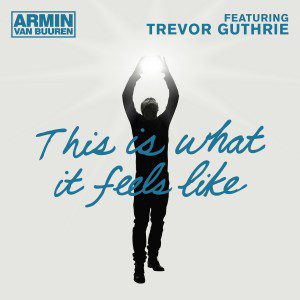 Record Links
Armin van Buuren feat. Trevor Guthrie – This Is What It Feels Like
Released: April 04th, 2013 on Armada Music
It's the first official single of the album that dance land has been waiting for. The premier introduction to 'Intense', the fifth artist album of the world's number one DJ, Armin van Buuren. It's the feel-good 'This Is What It Feels Like' ft. Trevor Guthrie, that rushes in.
Gathering two years of extraordinary production work and song-writing, 'Intense' is the next addition to Armin's legacy. Landing May 3rd, the first single is an exclusive pre-taste of its genre-bending sound. Featuring Canadian singer/songwriter Trevor Guthrie, Armin brings a musical fusion that has its roots in dance, rock and pop. Coming together in the easy-listening, up-tempo tune that is 'This Is What It Feels Like', Armin once again proves not to be a prisoner of his own style.
Dutch duo W&W, the rising stars of EDM's new generation, supersized 'This Is What It Feels Like' to club and arena proportions, peak-time madness guaranteed.