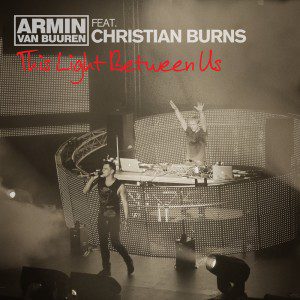 Record Links
Armin van Buuren feat. Christian Burns – This Light Between Us
Released: November 11th, 2010 on Armada Music
One of the many highlights of Armin van Buuren's 'Mirage' album, is the breath-taking collaboration with UK singer Christian Burns. 'This Light Between Us', a warm and emotional vocal trance track, will be the third single off 'Mirage', set to conquer the hearts of global crowds and the dance society.
Strong layers of piano, enchanting strings and flawless vocals by Christian Burns makes this third 'Mirage' weapon of choice an essential theme in the Armin Only – Mirage world tour, which will travel to more than 15 cities across 5 different continents. 'This Light Between Us' once again proves that the Dutch DJ/producer, number one DJ in the world in DJ Mag for the fourth year in a row,  knows how to send shivers down your spine.
UK singer Christian Burns, who's worked with the likes of Tiësto, David Guetta and BT, originally became known as the lead singer of the hugely successful pop rock band  BBMAk. After discovering the vocal side of dance music, he got hooked on the 4 to the floor beat and hasn't looked back since. The music video of 'This Light Between Us' will be shot during the opening show of the Armin Only – Mirage world tour, November 13th in the Jaarbeurs venue in Utrecht. The Dutch Metropole Orchestra will perform the single live during this show.