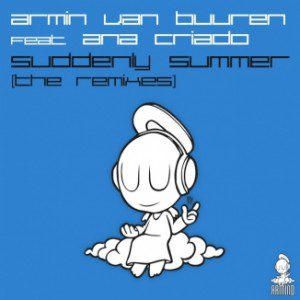 Record Links
Armin Van Buuren Feat. Ana Criado – Suddenly Summer (The Remixes)
Released: June 18th, 2012 on Armind
The long days of summer have finally fallen upon us. And so it is time for Armin van Buuren's spell-binding collab with Ana Criado to strip off its sounds and get a full-on remix treatment. Heatbeat and Norin & Rad give new light to 'Suddenly Summer'.
A trending topic, top seller on Beatport and absolute highlight to the many shows that it's been played at. The warm voice of Ana Criado and the melodic touch of Armin van Buuren made up for another perfect combination. 'Suddenly Summer' is now on for round 2, bringing you the sounds of two talented duo's.
Argentinean producer duo Heatbeat has ever been a favourite of Armin, providing rocking tunes with a solid and loud bass. But the youngster also know how to lure you in with a melodic touch, and that's exactly what they've done with 'Suddenly Summer'. An electro-prog remix with melodic depth.
Norin & Rad, the upcoming duo from Orange County, US, previously remixed for the likes of Cosmic Gate and Andy Moor. This time, they're showing their skills to the main man – Armin van Buuren. Their remix of 'Suddenly Summer' bursts with pure energy and screams for peak-time play.
Record Tracklist
Suddenly Summer (Heatbeat Remix)

-:--

/

-:--

Suddenly Summer (Norin & Rad Remix)

-:--

/

-:--

Suddenly Summer (Heatbeat Radio Edit)

-:--

/

-:--

Suddenly Summer (Norin & Rad Radio Edit)

-:--

/

-:--