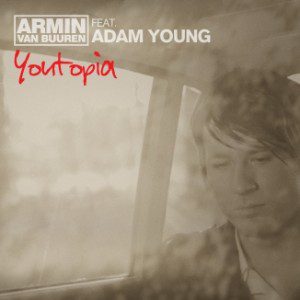 Record Links
Armin Van Buuren feat. Adam Young – Youtopia
Released: November 28th, 2011 on Armind
The next single of Armin van Buuren's 'Mirage' album is the beloved, feel-good piece of 'Youtopia', featuring the unique vocals of Owl City singer Adam Young!
All the way from Minnesota in the US, a warm sounding male vocal found its way on a track of Armin van Buuren's fourth artist album 'Mirage'. The remarkable voice belongs to Adam Young, singer of Owl city, famous for synth-pop tracks like 'Fireflies' and 'Umbrella Beach'. Despite the differences in their music, Armin and Adam took on the challenge to create something that combines the best of both worlds, coming together in 'Youtopia'. A sparkling, vivid track with a positive vibe that'll get stuck in your head in no-time.
Including a deep, proggy remix by Blake Jarrell, clubby prog-house translation by Michael Woods, maddening tech-house fix of Tocadisco and synth-soothing trancy remix of Re:Locate, 'Youtopia' brings you an all-around package that'll definitely bring out a smile!
Record Tracklist
Youtopia (Radio Edit)

-:--

/

-:--

Youtopia (Michael Woods Remix)

-:--

/

-:--

Youtopia (Tocadisco Remix)

-:--

/

-:--

Youtopia (Blake Jarrell Remix)

-:--

/

-:--

Youtopia (ReLocate Remix)

-:--

/

-:--