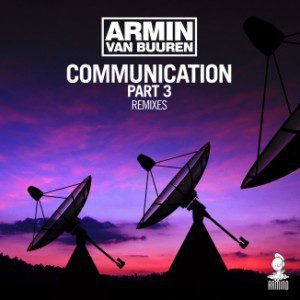 Record Links
Armin van Buuren – Communication Part 3 (Remixes)
Released: February 04th, 2013 on Armind
The ultimate end-of-the-night anthem. An unforgettable classic. And one of the biggest tunes that Armin van Buuren ever released: 'Communication'. The 1999 classic now sees 4 remarkable new remixes, by James Dymond, John Askew, Faruk Sabanci and Tomas Heredia.
Two years after the grand success of 'Blue Fear', Armin's first international hit, the Dutchman released the very first and original version to a track that would eventually return in 2 new remakes, Part 2 (2000) and Part 3 (2007). In 1999, Cyber Records released the original and with its dreamy start, synth-driven melody, the simple but compelling piano notes and its relentless energy, immediately secured a place in the hearts of ten-thousands of trance lovers.
13 years after its release, 'Communication' still lingers in our minds. And that's exactly why its been given an upgrade. Gathering four gifted producers, each giving 'Communication' its new feel and sound, is the Communication Part 3 remix pack.
From the razorsharp, techy trance vibe of John Askew to the electrifying and housy Tomas Heredia version. If you're looking for big-room with a mind-blowing break, try the Faruk Sabanci remix, and last but not least, there's the uplifting and orchestral touch of James Dymond. Four new versions to blow you away. Again!
Record Tracklist
Communication (John Askew Remix)

-:--

/

-:--

Communication (James Dymond Remix)

-:--

/

-:--

Communication (Tomas Heredia Remix)

-:--

/

-:--

Communication (Faruk Sabanci Remix)

-:--

/

-:--

Communication (John Askew Radio Edit)

-:--

/

-:--

Communication (James Dymond Radio Edit)

-:--

/

-:--

Communication (Faruk Sabanci Radio Edit)

-:--

/

-:--

Communication (Tomas Heredia Radio Edit)

-:--

/

-:--