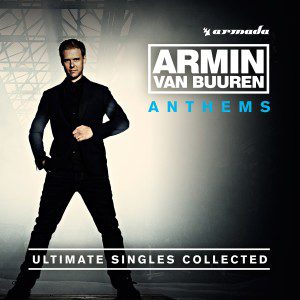 Record Links
Armin van Buuren – Armin Anthem (Ultimate Singles Collected)
Released: November 14th, 2014 on Armada Music
It's easy to forget how many life-changing songs Armin has produced over his staggering career, including records like his early UK chart hit 'Blue Fear' and his recent smash 'This Is What It Feels Like', which was certified platinum, gold, and silver around the globe.
In an era where trends come and go on a daily basis, one man has withstood the test of time again and again, achieving success through his unwavering support of the music he loves.
Armin van Buuren has had the fortitude to stay true to his values throughout an unrivaled DJ career, in which he was voted DJ Mag's #1 DJ more than anyone in history. In addition to pioneering never-before-seen techniques in his live shows and concerts, Armin has always had his number one priority be the music itself.
That sincerity is something the fans have always appreciated, as evidenced by his A State of Trance Radio Show, whose weekly listeners number in the 20 millions worldwide.
And so, with a deep respect for his loyal fans, Armin set out to create a different kind of record: one in which the fans played a key role. He reached out during his radio show and through his website and social media, giving the fans and the fans alone the chance to determine the track list of this incredible album.
And they responded in droves. While each listener's top 5 Armin favorites may be different, combined these are the fan-voted, greatest 'Armin Anthems' of all-time.
As we look back on records like 'Shivers', 'Communication', 'This Is What It Feels Like', and 'In And Out Of Love', we see more than just chart topping titles, hundreds of millions of YouTube views, a Grammy nomination, and countless other awards.
We see music that has shaped and defined the current music climate in which we all live — championed by one of the greatest DJs the world has ever known — Armin van Buuren.