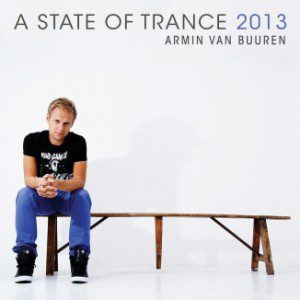 Record Links
Armin Van Buuren – A State Of Trance 2013
Released: February 14th, 2013 on Armada Music
Music is more than a second nature to Armin van Buuren. For the past 15 years, he's been living to the rhythm of his own success, at a high pace. Nothing else fascinates the Dutch DJ and producer more than the phenomenon of sound. An important part of his musical journey is the annual A State of Trance compilation series, highly anticipated by his fans, the music lovers and dance addicts. And here's it is, the ten year anniversary edition, A State of Trance 2013. Mixed and compiled by no one other than Armin van Buuren.
2013 couldn't have held more musical promises. In February, March and April, Armin celebrates the 600th episode of his A State of Trance radio show with no less than 12 shows in cities all across the globe. Many of the events of the 'A State of Trance 600 – The Expedition' world tour will be broadcast live, reaching out to millions of listeners. For more than 20 million people, the radio show has become a weekly highlight. Going strong for nearly 12 years, it was and still is one of the driving forces in Armin's career. Same goes for the award-winning A State of Trance compilation series, representing a new year in trance music. In the same year that Armada Music celebrates its 10 year anniversary, so does the A State of Trance series.
Bursting with exclusive tracks and remixes, seamlessly mixed by the world's number one DJ, Armin proudly presents A State of Trance 2013. From new found gems of renowned names to the latest discoveries of EDM's league of rising talents. This is the sound of 2013, defined by Armin van Buuren.
Record Tracklist
Armin van Buuren vs Arty – Nehalennia (Radio Edit)

-:--

/

-:--

Omnia – The Light (Radio Edit)

-:--

/

-:--

BT – Skylarking (Radio Edit)

-:--

/

-:--

Hazem Beltagui & Allan V. – We Are (Radio Edit)

-:--

/

-:--

Denis Kenzo feat. Sveta B. – Lullaby Lonely (Progressive Mix Edit)

-:--

/

-:--

The Blizzard & Daniel van Sand feat. Julie Thompson – Made For You (Radio Edit)

-:--

/

-:--

Two&One & Sarah Russell – Dream State (Radio Edit)

-:--

/

-:--

Dart Rayne & Yura Moonlight & Cate Kanell – Shelter Me (Radio Edit)

-:--

/

-:--

Myon & Shane 54 with Aruna – Lights (Radio Edit)

-:--

/

-:--

Super8 & Tab – Teardrops (Radio Edit)

-:--

/

-:--

VillaNaranjos – Jalón (Radio Edit)

-:--

/

-:--

Matt Bukovski – Eterna (Radio Edit)

-:--

/

-:--

Armin van Buuren feat. Fiora – Waiting For The Night (Beat Service Remix Edit)

-:--

/

-:--

Protoculture – Laguna (Radio Edit)

-:--

/

-:--

Solarstone & Clare Stagg – Jewel (Pure Radio Edit)

-:--

/

-:--

Armin van Buuren – A State Of Trance 2013 (On The Beach: Full Continuous DJ Mix)

-:--

/

-:--

Armin van Buuren & W&W – D# Fat (Radio Edit)

-:--

/

-:--

Armin van Buuren & Markus Schulz – The Expedition (A State Of Trance 600 Anthem) (Radio Edit)

-:--

/

-:--

AYDA – Caesar (Radio Edit)

-:--

/

-:--

John O'Callaghan & Full Tilt feat. Karen Kelly – Breathe (Radio Edit)

-:--

/

-:--

Armin van Buuren presents Gaia – Humming The Lights (Radio Edit)

-:--

/

-:--

Rank 1 vs M.I.K.E. – Elements Of Nature (Radio Edit)

-:--

/

-:--

Andrew Rayel – Musa (Radio Edit)

-:--

/

-:--

RAM & Alex M.O.R.P.H. – Grotesque (Radio Edit)

-:--

/

-:--

Jorn van Deynhoven – Superfly (Radio Edit)

-:--

/

-:--

MaRLo – BOOM (Radio Edit)

-:--

/

-:--

Frans Bak – The Killing (Armin van Buuren Radio Edit)

-:--

/

-:--

Heatbeat – Game Over (Radio Edit)

-:--

/

-:--

Bjorn Akesson – Gunsmoke (Radio Edit)

-:--

/

-:--

Armin van Buuren – A State Of Trance 2013 (In The Club: Full Continuous DJ Mix)

-:--

/

-:--