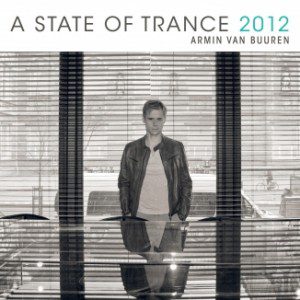 Record Links
Armin Van Buuren – A State Of Trance 2012
Released: March 01st, 2012 on Armada Music
To Armin van Buuren, music is a natural state of mind. The Dutch DJ and producer lives, breaths and sleeps on the wonders of the 4-to-4 beat and has been at it for more than 15 years. Nine of those years have involved the annual release of his A State of Trance compilation. A highlight for the trance-minded and dance addicts, now reaching for its 2012 edition. This is A State of Trance 2012, mixed by Armin van Buuren.
2012 is a year much discussed, both in and outside the dance scene. It's the year in which the dance society celebrates the 550th episode and therefore 11th birthday of A State of Trance, Armin's beloved radio show. With 7 shows planned for March, it's another climax in the career of the Dutchman. 18 million listeners tune in every week, to enjoy Armin's selection of the latest in trance and progressive, as well as a blend of exclusive tracks and remixes. With each compilation representing a new year in trance on a special 2 disc mix, Armin brings his fans the A State of Trance compilation. A series going strong since 2004, winning several IDMA awards for 'Best Full Length DJ Mix'.
For 2012, Armin has found the perfect balance and track selection. From tracks produced especially for the ASOT series to new found gems from the upcoming league of dance producers. After weeks of preparation, A State of Trance 2012 is a fact!
Record Tracklist
Omnia & IRA – The Fusion (Armin van Buuren's Intro Edit)

-:--

/

-:--

VillaNaranjos – Granadella (Radio Edit)

-:--

/

-:--

Sunlounger & Zara Taylor – Try To Be Love (Roger Shah Naughty Love Mix Radio Edit)

-:--

/

-:--

The Blizzard – Piercing The Fog (Radio Edit)

-:--

/

-:--

Audien – Keep This Memory (Radio Edit)

-:--

/

-:--

Nash & Pepper – Ushuaia Memories (Radio Edit)

-:--

/

-:--

Mike Foyle & ReFeel – Universal Language (Original Mix Edit)

-:--

/

-:--

Tenishia – Always Loved, Never Forgotten – The Day Will Come (Original Mix Edit)

-:--

/

-:--

Andy Moor feat. Jessica Sweetman – In Your Arms (Original Mix Edit)

-:--

/

-:--

Mark Otten – Hyperfocus (Wezz Devall Remix Edit)

-:--

/

-:--

Armin van Buuren feat. Ana Criado – Suddenly Summer (Original Mix Edit)

-:--

/

-:--

Susana & Max Graham – Down To Nothing (A State Of Trance Edit)

-:--

/

-:--

Lemon & Einar K – We Are What We Are (Original Mix Edit)

-:--

/

-:--

Armin van Buuren – A State Of Trance 2012 (On The Beach: Full Continuous DJ Mix)

-:--

/

-:--

Ashley Wallbridge – Mumbai Traffic (Club Mix – Armin van Buuren's Intro Edit)

-:--

/

-:--

W&W – Invasion – ASOT 550 Anthem (Radio Edit)

-:--

/

-:--

Orjan Nilsen – Amsterdam (Original Mix Edit)

-:--

/

-:--

James Dymond – Overthrow (Protoculture Remix Edit)

-:--

/

-:--

Armin van Buuren presents Gaia – J'ai Envie De Toi – Armin van Buuren presents Gaia (Radio Edit)

-:--

/

-:--

Wiegel Meirmans Snitker – Nova Zembla (Armin van Buuren Radio Edit)

-:--

/

-:--

Ralphie B – Icarus (Radio Edit)

-:--

/

-:--

MaRLo – Megalodon (Original Mix Edit)

-:--

/

-:--

Armin van Buuren & Orjan Nilsen – Belter (Original Mix Edit)

-:--

/

-:--

Gareth Emery feat. Christina Novelli – Concrete Angel (John O'Callaghan Remix Edit)

-:--

/

-:--

Paul van Dyk feat. Ummet Ozcan – Dae Yor

-:--

/

-:--

John O'Callaghan & Heatbeat – Las Lilas (Original Mix Edit)

-:--

/

-:--

Armin van Buuren – A State Of Trance 2012 (In The Club: Full Continuous DJ Mix)

-:--

/

-:--