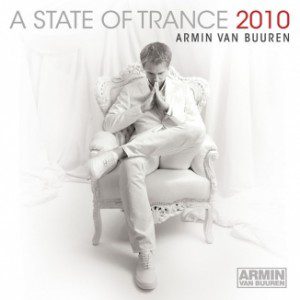 Record Links
Armin Van Buuren – A State Of Trance 2010
Released: March 19th, 2010 on Armada Music
The A State of Trance brand is known, loved and carried through in Armin van Buuren's A State of Trance record label and yearly A State of Trance compilations. On April 2nd, the 7th edition of Armin's compilation series will be released on Armada Music. 'A State of Trance 2010' represents all quality trance, progressive and other music ahead and on its way of becoming the future favorites of the dance scene.
Armin van Buuren's life-long passion for trance music still hasn't lost its strength. The close to 15 years on his musical counter have only sized up his love for this dance music genre, giving him plenty of determination to build a steady and unrivalled career in dj'ing, producing and all other different aspects of a musical profession. One of those aspects, is radio.
Armin's 'A State of Trance' radioshow, running for more than 8 year already, is a weekly highlight to at least 10 million listeners. This year the show passes its 450th episode, a milestone celebrated with 5 different events in the US, Canada, Poland and Slovakia. All events will be broadcast live, including multiple-day specials and guest mixes by some of the biggest names in the dance scene. The release of A State of Trance 2010 is synched with this special celebration.
A State of Trance 2010, out on iTunes April 2nd and available in stores April 9th, is filled with exclusives, remixes and fresh tracks by the likes of Ørjan Nilsen, Faithless, Andy Moor, Thomas Bronzwaer and Arnej. The compilation also premieres the brand new Gaia track and therefore follow-up to 'Tuvan', by Armin himself. The first CD takes you in with the lush 'On The Beach' theme, while CD 2 boosts your clubbing spirit with
'In The Club'. A State of Trance 2010 owns the formula to get you into that beloved state.
Record Tracklist
Susana feat. Omnia & The Blizzard – Closer (Original Mix Edit)

-:--

/

-:--

Luigi Lusini – Who We Are (Original Mix Edit)

-:--

/

-:--

M6 – Days Of Wonder (Original Mix Edit)

-:--

/

-:--

Mat Zo – Near The End (Original Mix Edit)

-:--

/

-:--

Monogato – Sincere (Original Mix Edit)

-:--

/

-:--

Ron Hagen & Al Exander – Last Minute (Original Mix Edit)

-:--

/

-:--

The Thrillseekers – Savanna (Original Mix Edit)

-:--

/

-:--

Orjan Nilsen – Lovers Lane (Original Mix Edit)

-:--

/

-:--

Beat Service feat. Emma Lock – Cut And Run (Original Mix Edit)

-:--

/

-:--

Tenishia feat. Aneym – Stranger To Myself (Tenishia`s Burnout Mix Edit)

-:--

/

-:--

Andy Moor feat. Carrie Skipper – She Moves (Original Mix Edit)

-:--

/

-:--

DJ Governor – Shades Of Grey (Original Mix Edit)

-:--

/

-:--

Myon & Shane 54 feat. Labworks – Ibiza Sunrise (Classic Dub Edit)

-:--

/

-:--

Armin van Buuren – A State Of Trance 2010, Pt. 1 (On the Beach: Full Continuous DJ Mix)

-:--

/

-:--

Velvetine – Safe [Wherever You Are] (Rank 1 Remix Edit)

-:--

/

-:--

Faithless – Not Going Home (Armin van Buuren Remix Edit)

-:--

/

-:--

Gaia – Aisha (Original Mix Edit)

-:--

/

-:--

Arnej – The Strings That Bind Us (Original Mix Edit)

-:--

/

-:--

DJ Eco feat. Lira Yin – Love (Dub Mix Edit)

-:--

/

-:--

Roger Shah & Signum – Ancient World (Roger Shah Long Haul Flight Edit)

-:--

/

-:--

Jer Martin – Ten Minutes To Midnight (Original Club Mix Edit)

-:--

/

-:--

Dreastic – Spirit (Original Mix Edit)

-:--

/

-:--

Ferry Tayle – Trapeze (Daniel Kandi's Emotional Radio Edit)

-:--

/

-:--

Max Graham feat. Neev Kennedy – Sun In The Winter (Alex M.O.R.P.H. Remix Edit)

-:--

/

-:--

Sebastian Brandt – 450 (Original Mix Edit)

-:--

/

-:--

Thomas Bronzwaer – Collider (Jorn van Deynhoven Remix Edit)

-:--

/

-:--

Ehren Stowers – Ascent (Original Mix Edit)

-:--

/

-:--

Robert Nickson – We Won't Forget (Original Mix Edit)

-:--

/

-:--

Simon Patterson – Taxi (Original Mix Edit)

-:--

/

-:--

Armin van Buuren – A State Of Trance 2010, Pt. 2 (In the Club: Full Continuous DJ Mix)

-:--

/

-:--

Armin van Buuren feat. Sharon Den Adel – In and Out of Love (The Blizzard Remix)

-:--

/

-:--

Armin Van Buuren feat. Jacqueline Govaert – Never Say Never (Myon & Shane 54 Remix)

-:--

/

-:--

Armin van Buuren feat. Jaren – Unforgivable (Stoneface & Terminal Vocal Mix)

-:--

/

-:--

Armin van Buuren presents Rising Star – Startheme (Original Mix)

-:--

/

-:--

Armin van Buuren feat. VanVelzen – Broken Tonight (Alex M.O.R.P.H. Remix)

-:--

/

-:--

Armin van Buuren – Armin van Buuren Mini Mix (Full Continuous Mix)

-:--

/

-:--