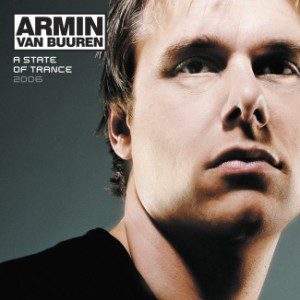 Record Links
Armin Van Buuren – A State Of Trance 2006
Released: February 12th, 2006 on Armada Music
Even though 2005 was a massive, busy year for Armin van Buuren, his A State of Trance 2006 compilation was still on time to ring in another year of good trance music.
In 2005, Armin won 2 awards for his 'Shivers' album, at the Dutch Release Dance Awards and the prestigious Edison Awards, both for 'Best Album'. Next to that he launched a new, spectacular event called 'Armin Only: The next level', which took place in November 2005 at the Rotterdam Ahoy venue and turned out to be a big, sold-out, success. But there's more. At the International Dance Music Awards in Miami, he received the 'Best Mix Radio Show' award for his A State of Trance radioshow, which had its 250th transmission in May 2006.
April 17 2006 was the day for all A State of Trance fans to head off to the music stores and grab their musical guide through trancy 2006. It's no surprise that A State of Trance 2006 won the award for  'Best Compilation' at the IDM Awards in Miami, with a quality trance selection like that. 2006 was the first year in which Armin chose to use different themes for the album. CD 1 is called 'On The Beach', for those that love those miraculous summer beats, and CD2 'In The Club', for a slightly more upbeat approach of an Armin set in the club.
On A State of Trance 2006, you'll find tracks by Mike Foyle, Leon Bolier, Arksun, John O'Callaghan, Envio, Zirenz, Sunlounger, Matthew Dekay, Karen Overton, Armin himself, and many more.
Record Tracklist
Shipwrecked (John O'Callaghan vs Mike Foyle Club Mix – AvB Intro Edit)

-:--

/

-:--

White Sand (DJ Shah's Original Mix)

-:--

/

-:--

No Need To Come Back (Vocal Mix)

-:--

/

-:--

Beautiful (Glimpse Of Heaven) (Long Island Dub Edit)

-:--

/

-:--

My All (Flash Brothers Remix)

-:--

/

-:--

For You (Radio Edit)

-:--

/

-:--

Arisen (Original Mix)

-:--

/

-:--

Voices From The Inside (M.I.K.E.'s Proggresiva Mix)

-:--

/

-:--

Red Woods (Original Mix)

-:--

/

-:--

Transmigration (Original Mix)

-:--

/

-:--

Captured (Sebastian Brandt Radio Edit)

-:--

/

-:--

World Gone Mad (Original Mix)

-:--

/

-:--