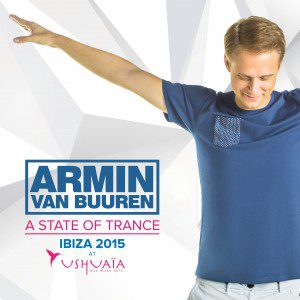 Record Links
A State Of Trance at Ushuaïa, Ibiza 2015
Released: August 21st, 2015 on Armada Music
Gazing upon the island of Ibiza for the first time, an unusual, yet tingling sensation takes hold of you, anticipating something magical that is about to happen. In your excitement, you can't resist smiling from ear to ear, and can't help but consider yourself one of the happiest human beings alive.
You take a deep breath, stride forward and find yourself amidst thousands of ecstatic party people, ready to jump, cheer, and chant at the thrilling sounds of thumping bass drums and waves of emotion. You tilt your head, open your eyes, and there, in the center of the pool, is an all but ordinary man, doing what he does best: Armin van Buuren…
The use of the word 'unforgettable' has never been more appropriate. To see Armin perform at the world-famous beach hotel and club Ushuaïa is a dream come true for so many fans around the world, consequently leading to everlasting memories. What one wouldn't do to relive those times…
That's where this double-mix compilation comes in. It holds all the highlights of Armin's 2015 summer residency at Ushuaïa, Ibiza, from brand new records such as W&W – 'The One', Protoculture – 'Southbound', and Heatbeat – 'It's Killing Me', to timeless tunes such as 'Panta Rhei' (by Armin van Buuren & Mark Sixma) and 'Café Del Mar' (by Beat Service).
Compiling some of the best works from top class artists, including Andrew Rayel, Armin van Buuren, Dan Stone, Heatbeat, Protoculture, W&W and many more, you can't deny the eminence of the Armin-Ibiza-combination, even if you wanted to. It's a ground-breaking enterprise, touching down in Ushuaïa for the second year in a row.
It's A State Of Trance at Ushuaïa, Ibiza 2015.