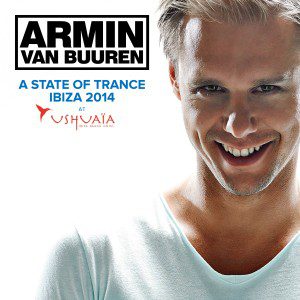 Record Links
A State Of Trance at Ushuaia, Ibiza 2014
Released: September 16th, 2014 on Armada Music
Your Ibiza getaway begins in the plane, and this is no ordinary flight. From the moment you step on the aircraft, you can feel the energy rising — like one of Armin's intense buildups. With each passing minute, the passengers start buzzing more and more. You start seeing the other passengers not as annoyances on a cramped flight, but as fellow partiers just waiting for that first beat to drop.
As you swoop in for a landing, you see the Balearic island and all your troubles melt away. One of the most magical parts of Ushuaïa is that you can see flights taking off and touching down overhead while you party. Even while dancing, your mind welcomes each new group of people to the island, and you look at the plane as if to beckon them to join the greatest party on earth.
Armin van Buuren's sets have always been magical. His shows aren't just transitions from breakdown to drop — they're a progression. Lift off. Flight. Landing. Using tracks from Paul Oakenfold, Heatbeat, Simon Patterson, Aly & Fila, Gaia, Andrew Rayel, Cosmic Gate, and more, Armin is able to sculpt the crowds of Ibiza exactly how he wants.
This double-mix compilation is the definitive collection of the biggest tracks from Armin's sets this summer. The album also includes Armin's brand new track 'Hystereo', as well as his remix of Idina Menzel's 'Let It Go' from the Disney movie 'Frozen'. Armin has previously held residencies in Ibiza for many years and was long a mainstay of Privilege, Amnesia, Space, and the other super clubs on the island. Now he has his sights set on the moment's hottest beach hotel and club, the world-famous Ushuaïa.
A State of Trance and Ibiza have belonged together since a young Armin first set foot on the island, and what could be better than the best DJ on earth, at the best beach hotel on earth, with the best crowd on earth? This is A State of Trance at Ushuaïa, Ibiza 2014.