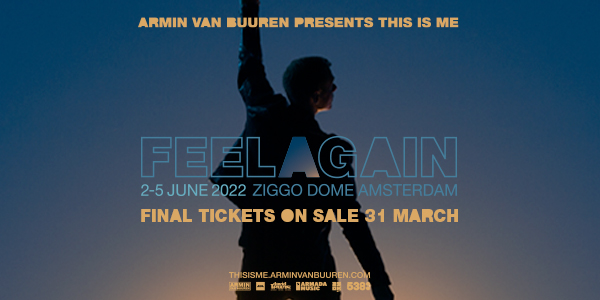 Armin van Buuren Presents 'This Is Me'
It has been five years since I last performed a solo show in the Netherlands, but this year, it will finally happen! On June 2, 3, 4 and 5, I will be performing my special solo show, 'This Is Me: Feel Again', at the Ziggo Dome in the Netherlands.
I want to be truly free in what I do musically. There will be no more templates and no more concessions. Just pure freedom, spiritually and creatively. To do and create what I want and what makes me happy, hoping you like it too. Throughout this show, I will take you on a journey to highlight my greatest hits as well as some new music!
Thanks to your continuous support, most tickets have already been sold before the pandemic. The final tickets are going on sale on Thursday, 31 March, 2022, at 16:00 CEST (or 4 p.m. CEST) via thisisme.arminvanbuuren.com, so mark your calendars. Tickets will sell out fast!
I want to take your hands and raise 'em to the sky like there's no tomorrow. I want to come together and feel again. This is me, and I hope to see you in the Ziggo Dome in June.