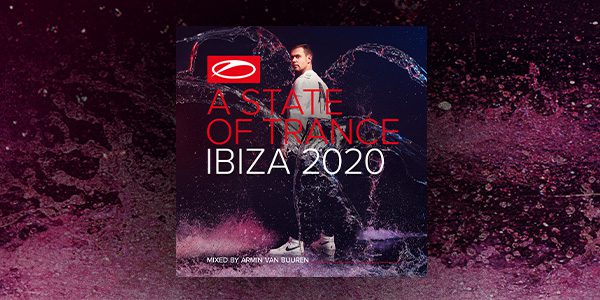 Armin van Buuren brings Ibiza to the rest of the world with new mix album: 'A State of Trance, Ibiza 2020'
Those who've once experienced the magic of Ibiza know how incredible it can be. The euphoria it radiates is truly one of a kind, but there are still so many people in the world who haven't been able to experience that special something. Luckily, that's where Armin van Buuren comes in, as the five-time #1 DJ in the world pushes the wonder of Ibiza within reach through the release of the seventh Ibiza-scented edition of his reputable A State Of Trance mix album series: 'A State Of Trance, Ibiza 2020'. 
Listen or download: 'A State Of Trance, Ibiza 2020 (Mixed by Armin van Buuren)
Decked out with forty phenomenal tracks that make the moment count whenever they're played, 'A State Of Trance, Ibiza 2020' is a haven for those who can't wait to get out there and throw themselves into the music again. With big records from the likes of Armin van Buuren ('The Voice' as Rising Star, 'Hollow' and 'Illusion' with AVIRA, 'I Need You To Know' with Nicky Romero and 'Que Pasa' with D'Angello & Francis), Above & Beyond ('Reverie'), Andrew Rayel ('Everything Everything'), Giuseppe Ottaviani ('Till We Meet Again'), Orjan Nilsen ('Sankthansaften'), Tom Staar (remix of Solarstone's 'Seven Cities') and more, this year's installment aims to make up for lost time by giving you a selection of amazing tracks that radiate the same sense of wonder you'd get with an A State Of Trance night on Ibiza, both On The Beach and In The Club.
Armin van Buuren: "We might not all be able to travel to the island, but we can definitely bring the island into our homes. If you use a bit of your imagination, I'm sure you'll find yourself in a state of trance at some beach somewhere around the world. I hope this album will help you enjoy this bizarre summer as you would a normal one."

Tracklist
Mix 1 – On The Beach
1. Armin van Buuren & AVIRA feat. Be No Rain – Hollow (Intro Mix)
2. OTIOT – Show Me Your Power
3. Armin van Buuren & Nicky Romero feat. Ifimay – I Need You To Know
4. Above & Beyond feat. Zoë Johnston – Reverie (Above & Beyond Club Mix)
5. Orjan Nilsen – Sankthansaften
6. Matt Fax – Could This Be
7. Lifelike & Kris Menace – Discopolis 2.0 (MEDUZA Remix)
8. ANUQRAM – Sirocco (Lee Coulson Remix)
9. Maor Levi feat. Nyla – One Love
10. Alex Sonata & TheRio feat. Gid Sedgwick – Awakening
11. Assaf & Cassandra Grey – Lost At Sea
12. Scorz feat. Diana Leah – Come To Life
13. Armin van Buuren & AVIRA – Illusion
14. Protoculture – Go
15. Kyau & Albert – Shimmer
16. Solarstone – Seven Cities (Tom Staar Remix)
17. Andrew Rayel & Olivia Sebastianelli – Everything Everything
18. Sodality & onTune – Be Away
19. Maryn & Joel Freck – Dawn
20. Elysian – Beyond The Comfort Zone
Mix 2 – In The Club
1. Luke Bond feat. Sarah de Warren – Walk Away
2. Alexander Popov – Poem
3. Andrew Rayel & Robbie Seed feat. That Girl – Stars Collide (Aimoon Remix)
4. Bogdan Vix & Claudiu Adam vs Ahmed Helmy – Fortuna
5. DJ T.H. – Leonie (Beatsole Remix)
6. Norni – Freedom
7. Ruben de Ronde feat. EKE – Wanderlust (Eugenio Tokarev Remix)
8. Allen Watts feat. Gid Sedgwick – Another You
9. Maarten de Jong – Tomahawk
10. Chris Schweizer – Don't Be Scared
11. Arkham Knights – Subconscious
12. Mike Foyle vs Signalrunners – Love Theme Dusk (Nikolauss #140 Remix)
13. Giuseppe Ottaviani – Till We Meet Again
14. Armin van Buuren presents Rising Star feat. Cari – The Voice
15. ReOrder feat. Bo Bruce – We Are The World
16. Rub!k – Moonwave
17. UDM – Supernova+
18. Allen Watts – High Voltage
19. Armin van Buuren and D'Angello & Francis – Que Pasa
20. David Forbes – Splice