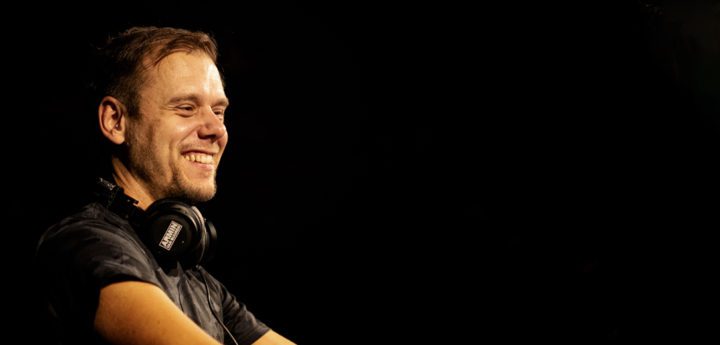 Armin van Buuren has special message for all ASOT listeners!
Dear LISTENER,
This is the 15th edition of the annual 'A State of Trance Year Mix', made for episode 896 of my weekly radio show. You can find the full video mix of this two-hour mix on
my YouTube channel
 by December 27th, 2018. Even though the mix is split into two separate discs, it should be seen as one whole two-hour mix.
2018 was the second year of me hosting A State Of Trance in the new radio studio in Amsterdam every week, but now including a video broadcast. It's amazing to see the love from the fans online, the debates about tracks and guests, and of course the fans that we invite to the studio. Even though I had to get used to the new routine, it's so much more fun doing the radio show like this. Most of the tracks I play on the show come in a day before I do the show. It's exciting to play a new tune and immediately see the response. It's the thrill of making live radio; you never know what to expect!
2018 was another crazy year for me. It started with a string of shows in a DJ booth upside down in Ahoy' Rotterdam and my first big tour of mainland China in March. There's a lot of love for Trance in China! I also celebrated episode 850 of the radio show, kicking off the celebration in the Jaarbeurs in Utrecht with our best-selling edition to date. Fans from more than 90 different countries around the world came to Holland to celebrate this milestone.
I wanted to make a lot of special tracks for my upcoming set in Miami since it was Ultra's 20th birthday. I was on the phone with BullySongs, a good friend and writer from the UK, while I was touring. During the 'Embrace' tour, we already had the idea to work on a 138 Psy-Trance-inspired track, but with a chant of Bully's son. We finally nailed it when I was in my hotel room, and everything came together. I finished the arrangement on the plane home to Amsterdam. The first rough version of 'Blah Blah Blah' was premiered in my Ultra set a few days later. It was really meant as a little fun moment for my set, but it turned out to be one of my biggest tracks ever. That's the beauty of making music: you can never really predict your next big track.
In April, I did my first ever DJ set in the actual Red Bull Garage on the pit where Max Verstappen and Daniel Ricciardo were preparing for their race in Shanghai. Being backstage and so close to the Formula 1 cars was a dream come true.
I woke up after my ASOT 850 set in Melbourne, Australia in April. I switched on my phone and it had exploded with messages. I will never forget the horror I felt. Tim Bergling (a.k.a. Avicii) passed away. The world stopped for a moment. I think it must have been the darkest day in dance music. I just couldn't believe it and I still can't. Such an talented, amazing and sweet person. I know it was a massive shock for so many people, including myself. Thank you for your great music Tim. You will always be remembered.
Because of this tragedy, I think the mood in the DJ scene changed this year. It's now more accepted that people talk about the pressure they feel and the crazy travelling schedules we face. I think that's a very good thing. If you feel depressed or down, you should seek help. I've had a lot of very open conversations with other DJs this year. It was a relief to know so many of them face the same insecurities I do. I guess it comes with the job! But don't worry about me. I'm still living the dream and I even enjoy it more than ever. It's all about finding your balance in life. As crazy as this year was for me, I did have time for family and myself, thanks to the great team around me. I've never released so many singles in one year and touring-wise, it was also one of the best years. When I'm in the studio, I just see where the moment takes me, just like when I DJ. That's my favorite thing about this job! It's never the same.
Some of my favorite gigs this year include Ultra Miami, Fun Radio Ibiza Experience 2018 Paris, Kingsland & 538 Koningsdag Holland, EDC Las Vegas, Brooklyn Mirage New York, Exchange Omnia, L.A., Wish Outdoor Mexico, ASOT 850 Poland, Summerburst Sweden, The Flying Dutch in Holland & Curacao, Nameless Music Festival Italy, The Gorge Amphitheatre Quincy, Bill Graham Civic Auditorium San Francisco, Hï Ibiza, Summer Story Madrid, Escapade Festival Ottawa, Dreams Toronto, Ollesummer Estonia, Electric Love Salzburg, Neversea Romania, Ultra Europe Croatia, Airbeat One Germany, Barcelona Beach Festival, Electrobeach France, witnessing the FIFA World Cup final in Moscow, Cavo Paradiso Mykonos, Cocorico Italy, Tomorrowland, Parookaville, Sunrise Poland, BH Stage Mallorca, Los Alamos Beach Estepona, Ohrid Calling, Creamfields Liverpool, New Horizons Germany, Mácháč Czech Republic, SW4 London, Opium Mar Barcelona, Lollapalooza Berlin, Ultra Japan, Imagine Music Festival Atlanta, TAO Chicago, Glow Echostage Washington D.C., New City Gas Montreal, The Grand Boston, Bluestone Columbus Ohio, The Pavilion Indianapolis, Ultra Mexico, Story Miami, Creamfields Santiago and the amazing Formula 1 gig in Mexico City. And last but not least, I would like to mention my gig at Untold in Cluj, Romania. I don't know why, but it's special every year. I played for seven hours this year and the crowd brought me to tears again. There's just so much love for the kind of music I like to play! I can't wait for 2019!
Behind the scenes, I'm already making plans for ASOT 1000, but the celebrations for ASOT 900 are on the way in 2019 first. At the time of writing, the Jaarbeurs is almost sold out and Kiev and Madrid are looking like they will sell out soon as well. Also, I've been working hard on new music for my next artist album. Hopefully, I can also finally release the new Gaia album in early 2019.
2018 draws to a close. This year mix represents the sound of 2018 for me. For the track selection, I looked at the standings so far for the ASOT Tune Of The Year voting. Many of you have already left your top 5 favorite tunes of the year on vote.astateoftrance.com and I want to thank you for that. This mix is basically the top 100 of that list, but I also added a few tunes that I think were big in my sets and relevant for the sound of this year. If you feel a few tunes are missing, that usually means I wasn't able to clear the rights to license those tracks for this mix. But fortunately, we were so kindly granted permission by almost all of the labels we approached. When you listen to this mix in a few years from now, I hope it will help you remember the sound of 2018.
As for my favorite tracks of the year,
Giuseppe Ottaviani
's 'Till The Sunrise',
Richard Durand
's 'The Air I Breathe',
NWYR
's 'Wormhole' and 'Dragon',
Above & Beyond
's 'Red Rocks' and my own 'United' (with
Vini Vici
,
Alok
and
Zafrir
), 'Blah Blah Blah', 'Just As You Are' and 'The Last Dancer' (with
Shapov
) did very well in all of my sets. But of course, there are many others as well. It's hard to pick just one favorite and each tune in this mix reminds me of a gig I did.
This mix was done in
Ableton Suite 10.0.5
, using only Ableton's EQ, auto filter, compression, delay and reverb plugins in addition to Sugar Bytes' 'Effectrix', Xfer's LFOTool, Cableguys' 'ShaperBox' and Waves' 'Waves Loudness Meter.' I ended up using 4673 edits/clips.
Many thanks to all the artists and labels involved. Without you, this year mix wouldn't exist. I'm also grateful for the stems I received. It made my mixing job a lot easier.
Thank you once again to the whole ASOT team (Ruben, Carmen, Kian, Ramon and Rogier), the radio department (John, Carl, Zak and Gavin), 250K (Sander and Dennis) and everyone else that helped me with this mix: Marco, Vincent, Raymond, Olga, Maykel, Frank, James, Joël, Hans, Dennis, Stevie Cripps and "The Voice" Jack Roberts, and everyone at Cloud 9 Music and Armada Music. For the video mix, thank you Fons and Aaron at Digital Outlaws.
And thank YOU! Without you, there would be no radio show like this. See you at ASOT 900!
Armin van Buuren
P.S. What's your favorite A State of Trance Year Mix so far and why? Please let me know via armin@astateoftrance.com.
Listen or download: 

A State Of Trance Year Mix 2018 (Mixed by Armin van Buuren)